Brandee Evans owes her dance career to one triple pirouette she turned as a high school senior. The actress and dancer was auditioning for the University of Memphis dance team. A full scholarship was on the line, and without it, she couldn't afford the university. Evans spent hours practicing on the concrete floor of her basement, cherry-picking tips from friends who had ballet and jazz training, and she learned tricks from her younger brother, who practiced karate. On Mother's Day, she skipped church and went to campus, where she was among hundreds of girls going out for the squad.
"I think I was flat-footed, but I went around three times and I spotted," she recalls, speaking recently from her home in Los Angeles. She was the only Black woman to make the varsity dance team. "I'll always be proud of that moment," Evans says.
Today, Evans has spun her way into the national dance spotlight, although not in a way that the churchgoing girl from Memphis, Tennessee, ever anticipated. On the critically hailed Starz network show "P-Valley," Evans plays Mercedes, the star pole dancer at a Southern strip club who longs to retire and launch her own dance studio for teenage girls. Not everyone in the town thinks that's an appropriate second act for a dancer who performs in rhinestone thongs. (As you might guess, the "P" in "P-Valley" is a slang term for female anatomy; the show may not be appropriate for younger viewers.) The finale airs on September 6.
"25 is the retirement age for strippers," Mercedes says in the pilot episode, when she gives notice to the gender-fluid strip club owner Uncle Clifford, played by veteran director and choreographer Nicco Annan.
Mercedes is not really 25, and Evans declines to give her own age. But she acknowledges that "P-Valley" came along just as she was attempting to retire from dance-centric roles.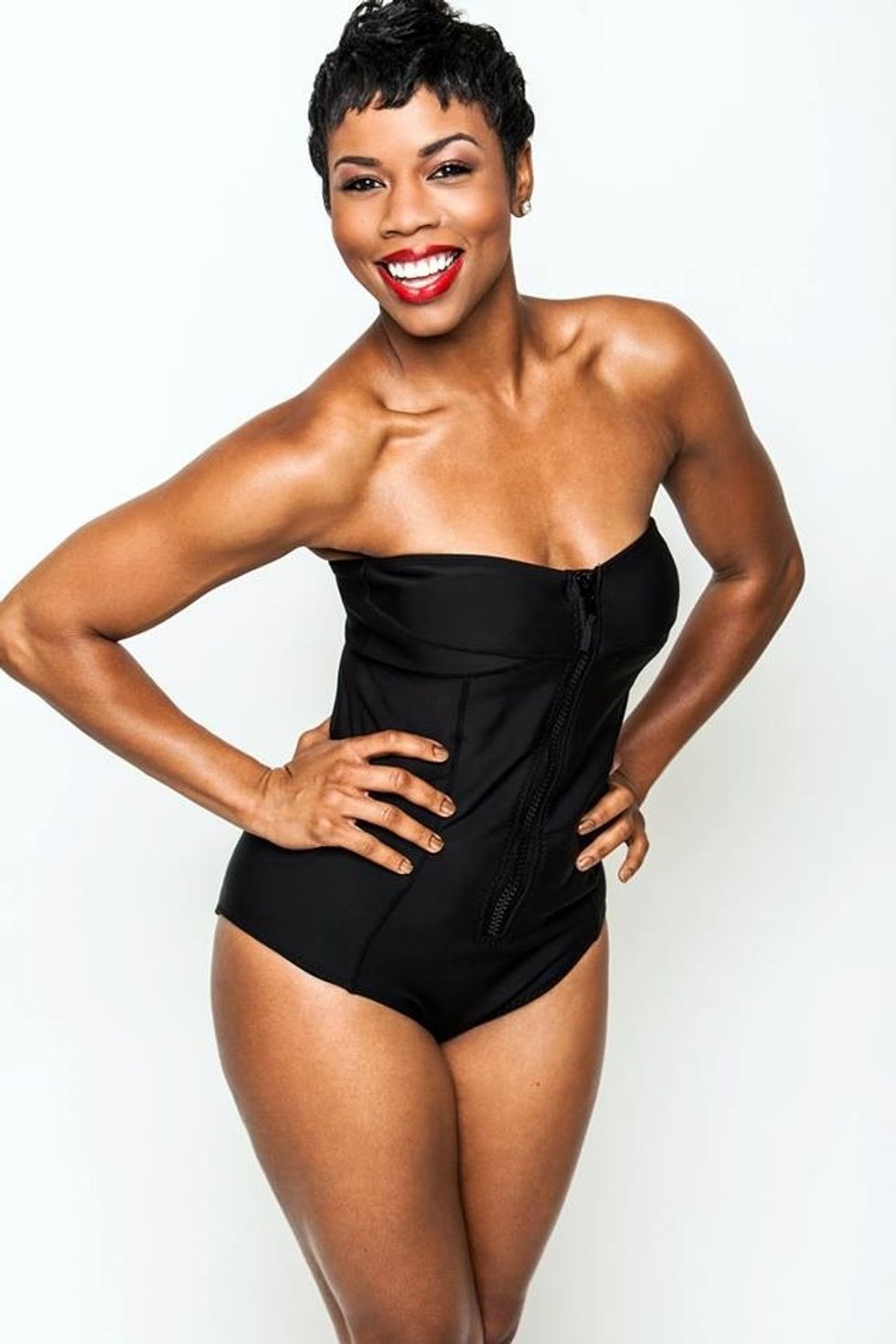 Courtesy Evans
After college, Evans became a high school English teacher who coached dance teams and danced for the Memphis Grizzlies on the side. But she spent her summers in Los Angeles, always striving to become a better dancer herself. Five years into this dual career, a choreographer spotted her in dance class, and the next thing Evans knew she was on Lil Wayne's bus writing her resignation letter to the school she was teaching at.
That was 11 years ago. Gigs with the likes of Katy Perry, Snoop Dogg and Alicia Keys came and went. She was hired—and then fired—as a dance director for the Miami Heat. (The team thought her approach was "too tough," Evans says.) She whipped teen dancers into shape on the Oprah Winfrey Network's short-lived show "Dance Crash." And when her mother's multiple sclerosis became more advanced, Evans began teaching more "Hip Hop in Heels" classes in part to help pay rehabilitation-center bills.
By 2016, Evans had become a full-time caregiver for her mother, who also has Alzheimer's. She needed to slow down, and told her agent "no more dance roles." She booked gigs on "Lethal Weapon" on Fox, two BET miniseries and more. But when the script for "P-Valley" came along, Evans put her plans to "retire" from dancing on hold. Between her audition and her callback, that same determined dancer who turned a triple pirouette to pay for college signed up for pole-dance classes.
"It was like auditioning for the University of Memphis again, and telling myself, 'You're going to get this,' " Evans says.
Of the four actresses who play pole dancers on "P-Valley," Evans is the only one performing most of her own stunts. In fact, she'd like to try more, but due to safety concerns, Starz has declared some moves off-limits. (Many are performed by her double, Spyda.) That didn't stop her from sneaking into Tyler Perry Studios to practice late one night once filming got underway, with Annan there cheering her on until 3 am. Before the director called "action" the next day, Evans looked at the lead cameraman and said, "I'm going to the top."
You can see the results on the first episode, when Evans mounts the pole upside down, pulling herself up by her abs. Halfway up she extends her legs and leans back to execute an "A layout," throwing in a few sit-ups for good measure. It's awe-inspiring, and yet Evans watches final cut and sees feet that should have been pointed, even in Mercedes' red platform stilettos.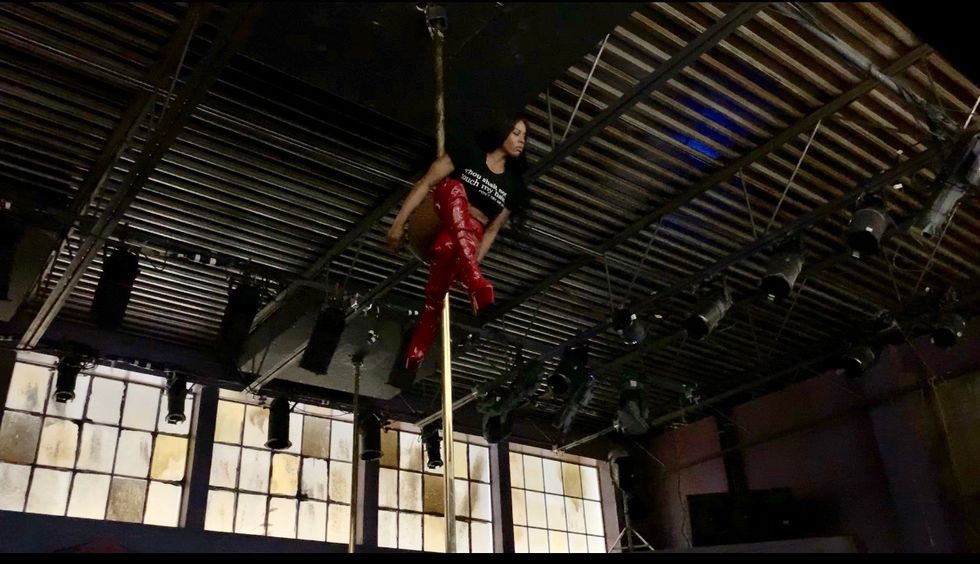 Courtesy Evans
"The dancer in me really wanted another take," she says.
After the pilot, Katori Hall, the playwright who created the series, specifically told the actresses not to lose weight—she liked their bodies as is. "That's unlike any other job I've ever had," Evans says. Not worrying about how her body looks to her has been freeing, and inspiring.
"I'm actually doing this for me now," she says. "It feels good."
Starz announced late last month that "P-Valley" will be renewed for Season 2, though the pandemic has delayed production. In the meantime, Evans has been rotating through a series of online cardio dance and strength classes, and occasionally leading workouts for her followers on a private Facebook group.
"I'm preparing my body now," she says. "Everybody knows that flexibility does not come back overnight."
Chief among her concerns: doing splits, maintaining core and back strength. There's no pole at her house, but just like that teenage girl who didn't have a ballet barre in her basement, Evans is setting her goals high, and grateful for a chance to achieve them.
ARTICLE ORIGINALLY PRINTED IN DANCEMAGAZINE.COM
WRITTEN BY Rebecca Ritzel